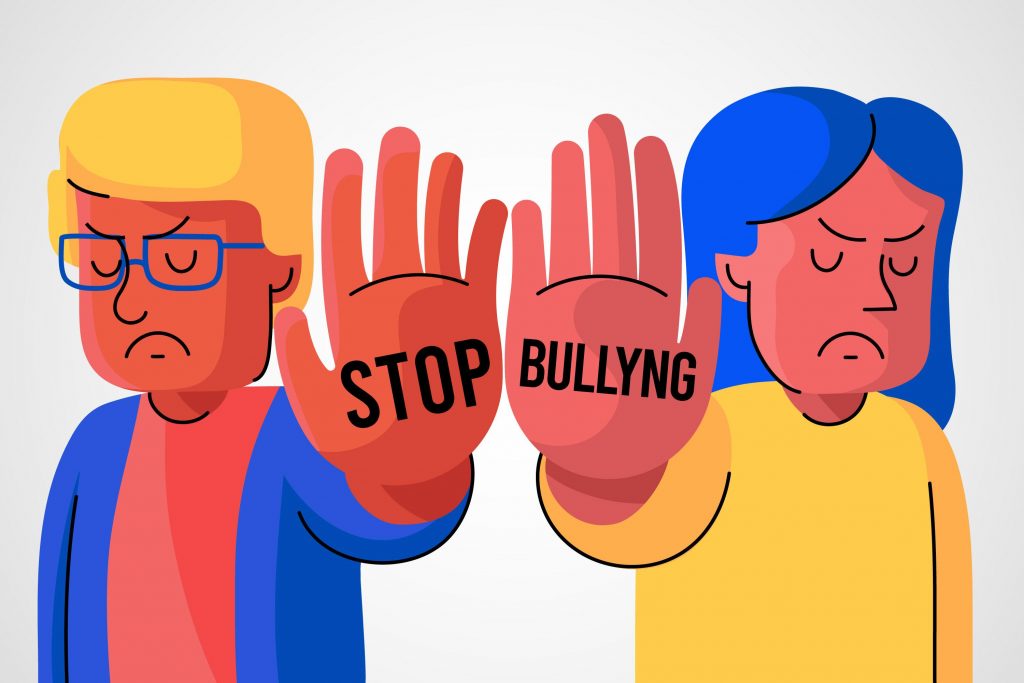 Bullying
Mrs G Haux
Head of Pre-primary
What is bullying?
Any repetitive action or inaction that seeks to deliberately harm, intimidate, distress or cause provocation with hostile intent to another person or their belongings.
Bullying in schools
What is Anti-Bullying Week?
Anti-Bullying Week is an annual event aimed at raising awareness of bullying and the negative effects that it can have on children that have fallen victim to it. This year it took place from November 16 – November 20. The week aims to get the message out there that bullying in any form is not acceptable.
What are the 4 main types of bullying?
Verbal bullying – This is when name-calling, threats and taunting take place.
Social bullying – This can involve excluding someone intentionally. Others might be encouraged to socially exclude someone by the bully. Spreading rumours and public shaming are also examples of social bullying.
Physical bullying – This is when someone is physically harmed because of intentional actions – these might be hitting, kicking, punching, spitting or tripping. Their belongings may also be targeted.
Cyberbullying – This is when the bullying takes place over a computer or any electronic device. It can involve spreading hurtful stories, rumours and images on the internet, through texting and on social media.
How can bullying in schools be stopped?
Incorporating Anti-Bullying Week into your school calendar can help to raise awareness. The best way to be able to deal with bullying effectively is to create a school culture of acceptance and communication so that students feel comfortable in coming forward and reporting issues. Other things that you can do to help include establishing an anti-bullying policy which is shared with teachers, pupils and parents alike so that everyone knows the procedure for dealing with problems.
For our young learners it is important to understand what bullying can look, sound and feel like and how to deal with bullying behaviour.
How wonderful that we can teach our learners to uphold Bible-values, which gives them a great resource how to respect and treat others.
Sources:
Wikipedia
https://www.twinkl.co.za/event/anti-bullying-week-south-africa-2020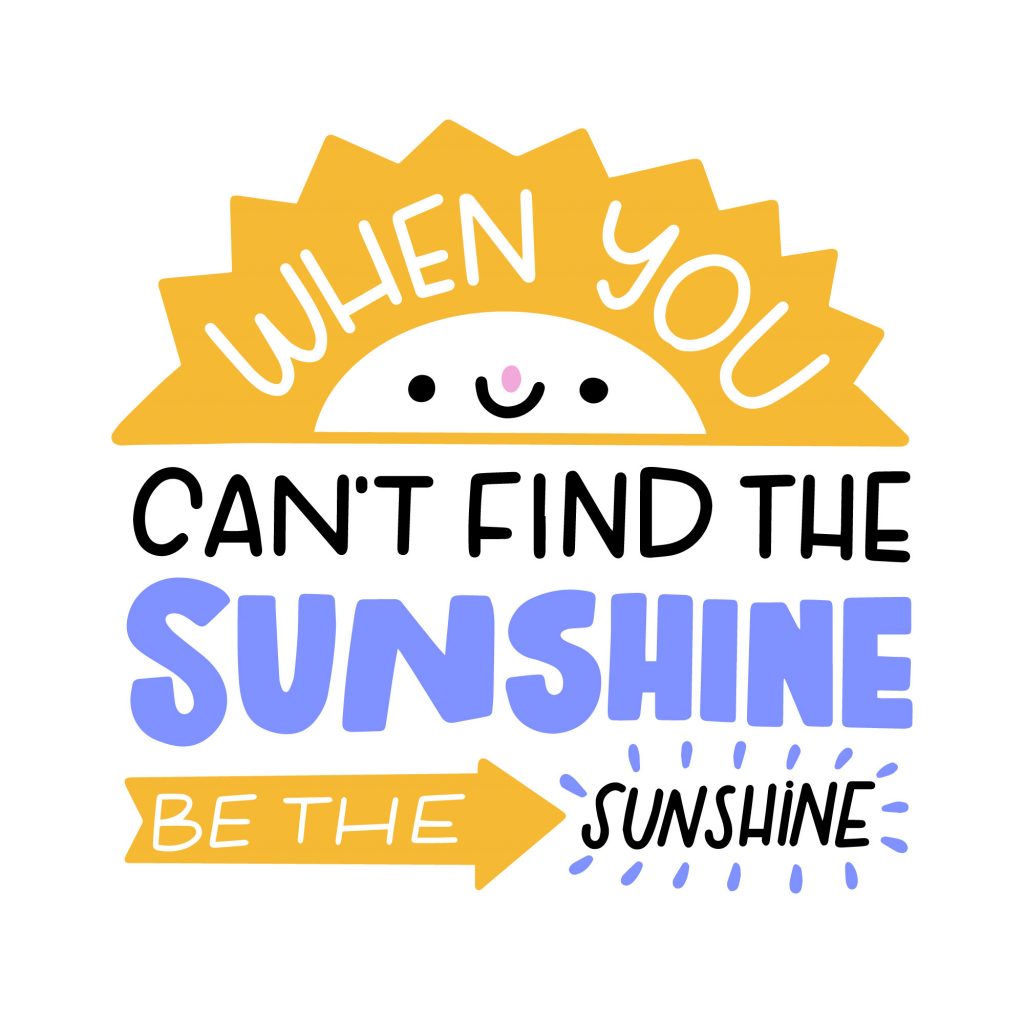 Enthusiasm
Mrs L Stegen
Head of Foundation Phase
Again, we reach the end of another school year. All years are different but this one was very different, unique, unlike any other year. It will not easily be forgotten by learners, teachers and parents. We experienced God's grace and help in the smallest things. One thing stood out for us Foundation Phase teachers – the enthusiasm of our little ones.
An easy definition for enthusiasm is doing every job with all one's heart. We found the learners full of excitement and eagerness in each different situation.
It is said that the humpback whale cannot help but do things in a big way. It sings tunes that can last for twenty minutes. The sound travels for hundreds of kilometres. This example is very much a picture of an enthusiastic, smiling and joyful person. These people enjoy every job and see each task as important. With them enthusiasm comes naturally. Children need to learn that every small task can lead to a bigger one very quickly. To be successful one must do everything whole heartedly. Keep teaching children that such an attitude requires going the 'extra mile'. Not just to do the work in order to complete it but to do it in the best way you can.
Hand in hand with this attitude is to not allow discouragement from failure. Learning challenges at school, sport or home must not be seen as failure but as Winston Churchill said, "Never, never, never give up.'
After Thomas Edison developed a successful light bulb, he was asked how he felt after so many failures. His answer, 'None of my thousands of attempts could have been failures or I never could have succeeded!' An enthusiastic person does not overlook problems but maintains a positive outlook even when there are challenges and obstacles.
The word enthusiasm comes from two root Greek words en and theos, with theos meaning God, which makes enthusiasm literally meaning 'full of God'. Maybe that is why enthusiastic people are so often creative, eager, full of energy and joyful! May we continue to teach this to our little ones and practise this eagerness and zeal in our service to God and others. 'Be eager to serve'. 1 Peter 5:2.
Adapted from: Character First. Series 3 – Booklet 5
Kumon, a solution?
Mrs E Gouws
Head of Intermediate Phase
According to Kumon.co.za Kumon is South Africa's largest supplementary education provider, offering individualised Maths and English programmes to help any child of any ability to progress and reach their potential.
The Kumon method aims to enable each child to become an independent, advanced learner with a positive attitude to study. They focus English and Maths skills and offer programmes which establish strong foundations in these subjects.
There are Kumon centres around the world. Once a child is enrolled in the Kumon programme s/he will visit the centre once or twice a week and be given homework for the other 6 days. The centres are staffed by instructors who support the children.
Kumon is an individualised program therefore children move up to the next level once they have mastered the work in speed and accuracy. Children start with easy work relative to their ability and independent thinking is encouraged.
So what do people on the ground say about Kumon?
It works. After about 6 months to 1 year the brain works in automatic mode. Mental arithmetic becomes second nature. Jason Slaton
It is easy to start. All students, whether 4 years old or 50 years old start with addition worksheets. It takes on average, approximately 6 months to complete the addition level. After addition, students move on to subtraction. After subtraction its multiplication and then division. Jason Slaton
It encourages independent learning. They are encouraged to learn new skills and techniques on their own. There are worked examples on worksheets and they do not need to ask for help, they can try and work problems out on their own. Jason Slaton
Kumon instructors are not qualified Maths teachers and they do not teach, they facilitate. Caroline Mukisa
Repeating enables children to get faster at Maths and it is a common fact that 10 000 hours of practice is needed to truly excel at something. Practice nourishes success, however, repetition can be boring and it should be mixed with maths games, drills, clips and workbooks. Caroline Mukisa
Kumon focuses arithmetic which means that concepts such as telling the time, data handling, investigations and problem solving will remain weak. Caroline Mukisa
Parents must take responsibility for their child's Kumon homework and children cannot always figure out the work themselves, especially at the higher levels. Caroline Mukisa
There are 26 centres in KZN. The cost of Kumon depends on the centre. A once off registration fee of R340-R650 per child is required and a further R500-R750 per subject per month which includes centre attendance for 2 days a week and sets of work completed at home each week.
Sources
www.kumon.co.za
www.thinkster.com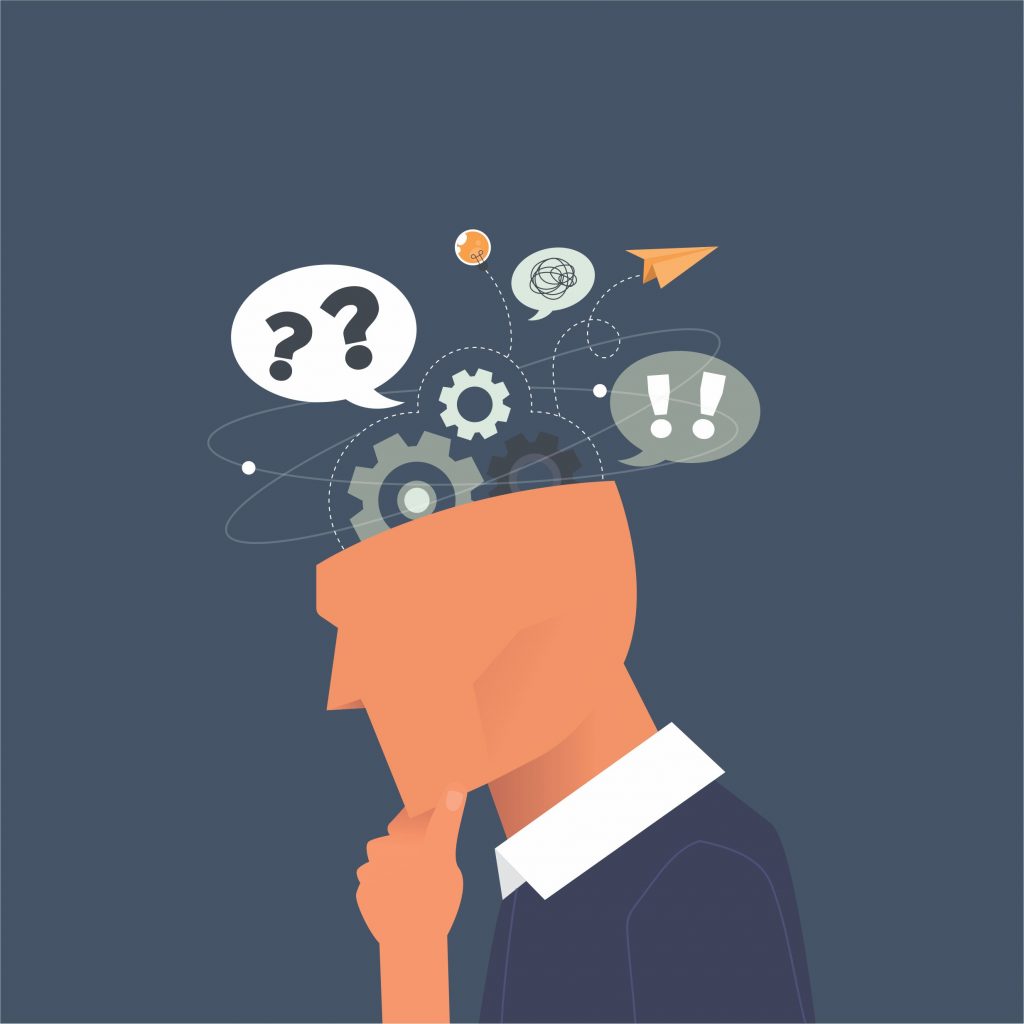 Reflect…
Mr D van Straten
Head of Senior Phase
"Sometimes you must stand still in order to get moving to where GOD wants you to go."

DA MC Bride
In this November edition of the Academicus we will do well to be reminded of the importance of reflecting on our experiences as a collective school body over the past 12 months: identifying those areas where we succeeded in order to build on them, and to recognise those areas where we failed in order to avoid or improve on them.
Every child has a different learning style and pace. Each child is unique, not only capable of learning but also capable of succeeding.

Robert John Meehan
As teachers, our status quo and beliefs regarding teaching are often challenged at Domino Servite School. This requires from staff to reflect on what we can do to help every schoolchild succeed to the best of their ability and to make DSS an even happier place, where each child is always developed and built up.
At the end of the day, the most overwhelming key to a child's success is the positive involvement of parents.

Jane D Hull
As a parent myself, I should reflect on what I can do to become more involved in my child's school, to make a bigger positive difference and to support my child's education more.
Our greatest fear should not be of failure, but of succeeding at something that doesn't really matter.

Dwight L Moody
Considering some of the challenges that is threatening to open up a rift between parent and child – social media, liberalism and entitlement – we will do well to reflect on the need to not only teach our children the right values, but to also model such values and to equip our children with eternity in mind.
In the light of this, it justifies a greater urgently to briefly look at the interpretation of the concept self-worth, and how we should seek to assist our children – both at home and school – to realise acceptance accurately.
Because of the "You-must-achieve" and "You-can-do-it" society in which children nowadays grow up, self-worth is too often associated with how successful I am and what I achieve in life. When looking at my child's report grades, when recalling my child's sports achievements, when helping my child choose Grade 10 subjects, is that the way that we build self-worth? Because you achieved you are worth something?
According to an article in the USA Today, 11 September 2020, the rate of suicide among those aged 10 to 24 increased nearly 60% between 2007 and 2018. A recent study by the South African Depression and Anxiety Group (SADAG) show that nine percent of all deaths among teenagers are due to suicide in South Africa. And experts are not sure why.
Too many young people follow career paths, or chase after achievement, or follow their parents' dreams, because of their drive to be accepted and to be worth something, only to later discover that pursuing such aspirations are often out of reach of most but a few, and that such pursuits cost so much time and effort that they substitute that which really matters in life.
Instead, self-worth should not only be linked to success, but to values and morals which make us human. Being a responsible citizen, cherishing family, doing good to my neighbour, serving with integrity…those should be important measures of worthiness. Not only success.
Being worthy because of success has worth but being worthy because of what you are is true worthiness.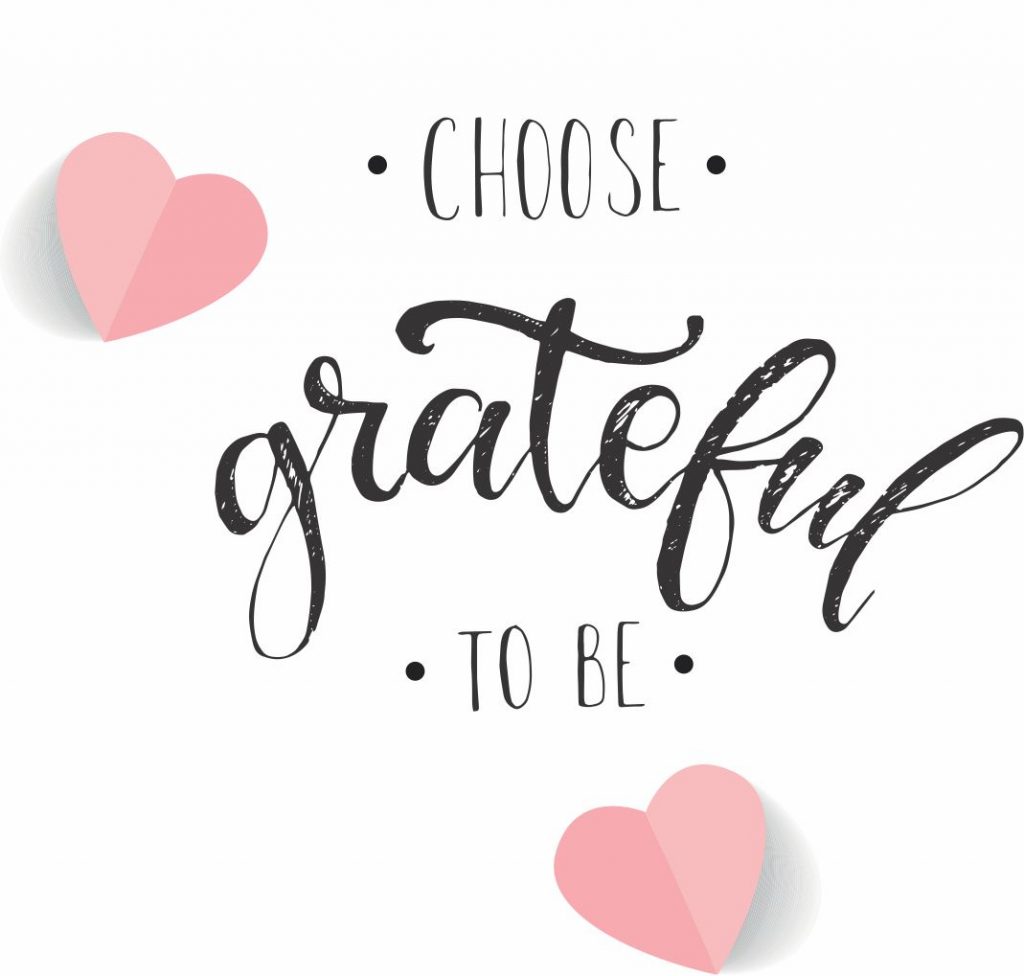 Be Grateful
Be Diligent
Mrs A du Preez
Head of FET Phase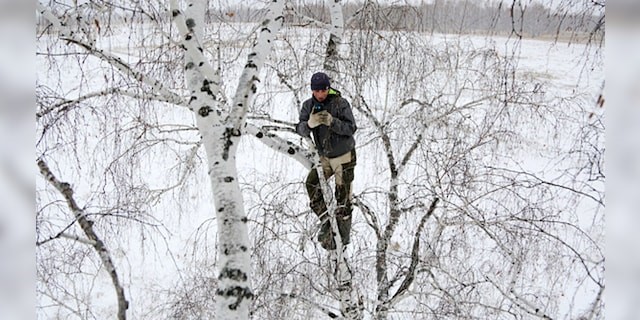 https://www.foxnews.com/world/siberian-student-climbs-tree-access-internet-remote-learning-rural-village
I was stunned by this photograph, recently published by Foxnews with the subheading, "A Russian university student living in a remote Siberian village who has been climbing atop a birch tree in order to obtain internet access for online learning."
What is your and my response to this? "Wow, what courage!" or perhaps, "Shame, poor chap!"
This student has three things: a device, a tree… and perseverance.
It is often not how much we have, but rather how we use what we do have. Do our children really appreciate and use what they have or is life just always so unfair because somebody else has more? Oh, blessed is the thankful heart and the diligent hands. And blessed are those who find themselves in the company of such a person.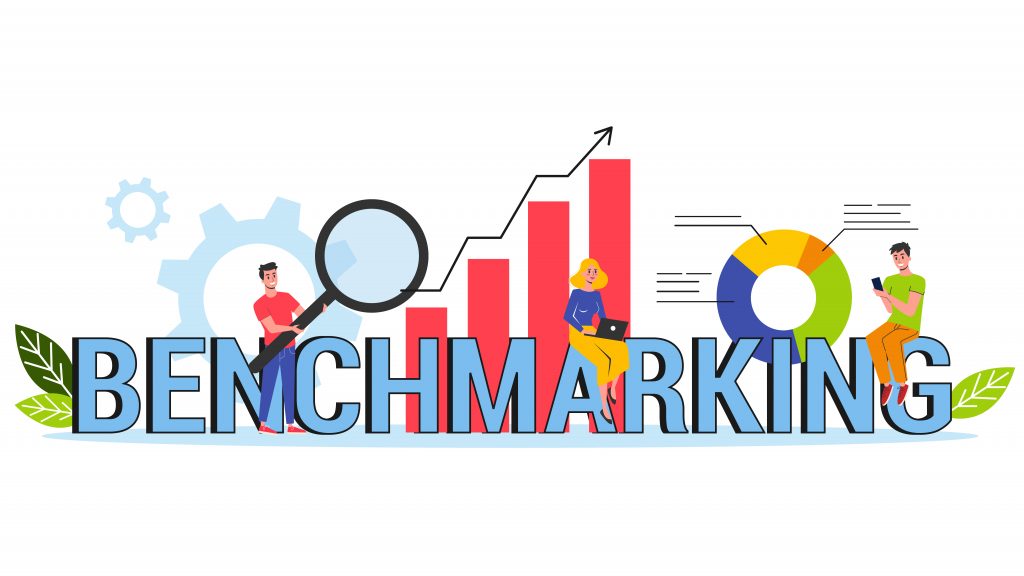 National Benchmarking Tests
Mrs H Pretorius
Head of Academics
Parents of FET learners should please note the following important information regarding the National Benchmarking Test, which is increasingly becoming a requirement for university entrance to South African universities.
Website: https://www.nbt.ac.za/
"The NBT test was implemented in 2008 and is a set of tests that assess learners' academic literacy, general knowledge, and mathematical skill in an effort to measure academic readiness for university. The NBT tests are managed by the Alternative Admissions Research Project at the University of Cape Town. NBT results are used by many universities as an extra admission criterion for applicants to their institutions. They serve to complement and support, rather than replace or duplicate NSC results."
Source: https://advantagelearn.com/nbt-test-national-benchmark-test/
"The National Benchmark Tests (NBTs) are assessments for first-year applicants into higher education institutions. The NBTs were designed to measure a writer's ability to transfer understanding of Academic Literacy, Quantitative Literacy and Mathematics to the demands of tertiary coursework. The National Benchmark Tests comprise three multiple choice tests, written as a combined Academic Literacy and Quantitative Literacy (AQL) test, and a separate Mathematics test. The AQL is a three-hour test that consists of an Academic Literacy (AL) section and a Quantitative Literacy (QL) section. The results of the two sections of the test are recorded separately. The second test is Mathematics (MAT), which is also multiple-choice and three hours in duration.
The Academic Literacy (AL) test targets a writer's capacity to engage successfully with the demands of academic study in the medium of instruction of the test.
The Quantitative Literacy (QL) test targets a writer's ability to manage situations or solve problems in a real context that is relevant to higher education study, using basic quantitative information that may be presented verbally, graphically, or in tabular or symbolic form.
The Cognitive Academic Mathematics Proficiency Test (CAMP) is a three-hour test that targets a writer's ability related to mathematical concepts formally regarded as part of the secondary school curriculum (Mathematics Papers 1 and 2) relevant for Higher Education studies."
Source: https://www.cut.ac.za/nbt
The official website contains information about how parents can register their matric learners, as well as information about writing the test online. If you have a child in the FET this is important information.
Mathematics vs Mathematical Literacy
As we explained at the Senior Phase Awards Function, we ran an information session with all the Senior Phase learners regarding the choice between Mathematics and Mathematical Literacy. Each learner received an information booklet on the topic, as well as additional information on soft skills required in the modern workplace. Please take the time to go through the booklets with them.
There is unfortunately many strongly-held beliefs about these two subjects which, at times, have resulted in entrenching the commonly held belief that Mathematical Literacy is inferior to Mathematics, and that there is no future for learners who take (and enjoy!) Mathematical Literacy.
The reality is that an 80% in Mathematical Literacy will prove to be of far more worth than a 30% in Mathematics. This is particularly true when applying for university entrance.
Parents will find the following resources useful in educating themselves on the matter:
Maths vs. Maths Literacy: the continuing debate
This article was written for the Thought Leader by Robyn Clark. Although it was published in 2012 it is still relevant.
What qualification can I get with Mathematical Literacy?
The authors give a list of 200 qualifications which can be studied with Mathematical Literacy. For someone interested in the subject, this site is well worth a visit.
Twelve Math Myths
This does not speak to the choice to be made, but it does explain some commonly held myths by many people with regard to Mathematics.
https://uaf.edu/deved/math/help-for-math-anxiety/12-math-myths/
If you or your Grade 9 learners still have questions about his/her choice between these two subjects, please do not hesitate to ask.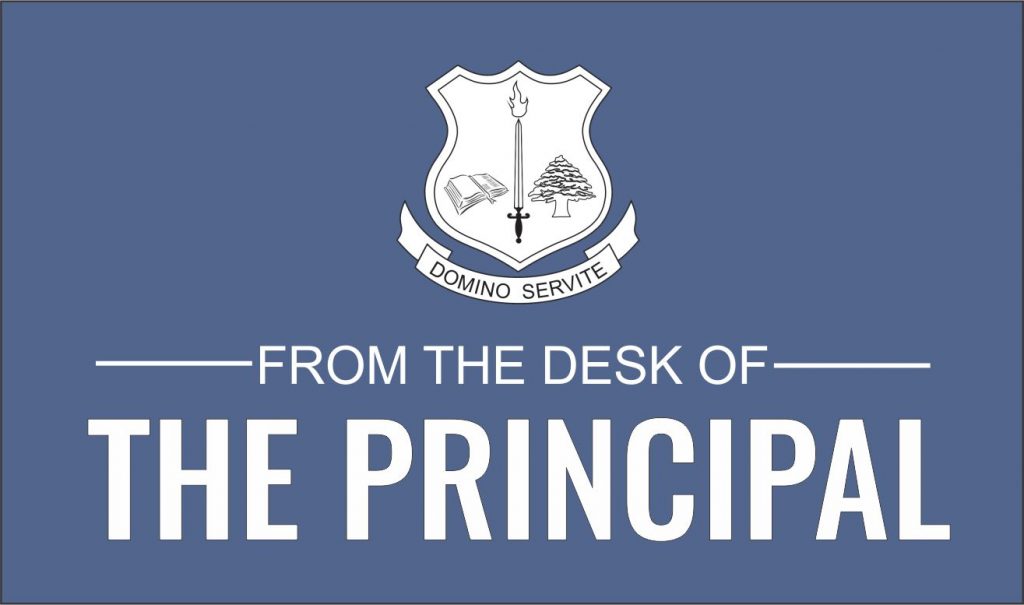 Term 4 Letter

Ms D Newlands
Principal
Dear Parents
A poster at the beginning of this year read: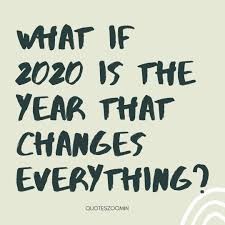 Someone must have had some inside information, don't you think?
Yet, our experience is that with a sense of immense gratitude we close our doors for this academic year. Gratitude for health, gratitude for the opportunities afforded us, gratitude for safe keeping, gratitude for a secure environment and so much more.
Changes in our Closing Ceremonies
One of the changes this year end is that we had four closing ceremonies instead of the usual large function – our Annual Prize Giving.
On Wednesday, 18 November, our Grade Rs graduated at a lovely little function attended by the parents. Even a deafening hailstorm did not dampen the lively spirits of the little souls, who could have easily been confused for college graduates as they strutted around with their mortarboards perched on their heads.
The next morning it was the learners in Foundation Phase and Intermediate Phase's turn to make their parent's chests swell with pride. Yes, you will agree that time flies as your child moves up the grade ladder. It feels like yesterday that Johnny started school you exclaim in dismay.
Friday's bleak weather was cheered by a rousing rendition by the Senior Phase Be strong and courageous and do not be afraid at their Awards Ceremony. Even the Brass Band's pieces were rendered with gusto. Thank you to all parents who attended this function. It means so much to your children to see Mom or Dad in the audience.
As this report is being compiled arrangements are in full swing for the FET Phase Awards Ceremony on Saturday, 28 November. Although a much smaller event than normal, the significance will not be lost as we bid our Matrics good-bye.
More changes
In each of you child's report envelopes there are a few important documents.
Policy Booklet
In booklet form you will receive the following policies:
Acceptable Use
Drug and Alcohol
Social Media/Communication
Permission to Use Images/Video/Voice Recordings
School Fees Agreement
Commitment to Code of Conduct
Please read these carefully, detach, sign and return the agreement pages signifying that
you agree to uphold them.
General Booklet
There is also a General booklet that contains all the information you need regarding School Fees for 2020, Uniform Requirements and the Minimum Promotion Requirements.
Stationery Requirements Booklet
A third booklet specifies the Stationery Requirements needed by your child/ren for 2021. Note that some of the items are provided by the school, some items are recommended but not compulsory and some items must be purchased by the parent. Requirements differ for the different grades.
Please do not hesitate to contact the school during office hours should you have any questions about these three booklets.
2021
Your child in Grade 11 and 12 will inform you that we have already begun teaching the 2021 curriculum. This change is to not be on the back foot and because of the uncertainties we face daily as a result of Covid-19. It will feel good to go on holiday knowing we are ready to face any uncertainty the new year may bring us. Should your child be unable to return at the start of the new year, we appeal to you as parents to support your child should there be a need for online learning. All the children are now equipped, from Grade 1 – 12. For now, though, we are confident that we will start the year as we began 2020!
In case you have not yet seen the communication about the dates for the 2021 calendar, here they are:
Term 1: 20 January 2021 – 31 March 2021
Term 2: 20 April 2021 – 23 June 2021
Term 3: 14 July 2021 – 17 September 2021
Term 4: 29 September 2021 – 4 December 2021
Medical Records
You will be receiving forms about your child/ren's medical and health condition as we are currently updating all the records that are needed. There are some gaps in the information that we have and would appreciate your cooperation. We hope to improve the well being services provided by the school where we can as this is important for the integrated school health programme (ISHP) required by the Department of Health.
Finally
In his bestseller book 12 Rules for Life: An antidote to Chaos, Jordan B. Peterson states the following regarding the importance of honesty: If you betray yourself, if you say untrue things, if you act out a lie, you weaken your character. If you have a weak character, then adversity will mow you down when it appears, as it will, inevitably. You will hide, but there will be no place left to hide. And then you will find yourself doing terrible things. Only the most cynical, hopeless philosophy insists that reality could be improved through falsification. Such a philosophy judges Being and becoming alike and deems them flawed. It denounces truth as insufficient and the honest man as deluded. It is a philosophy that both brings about and then justifies the endemic corruption of the world.
I encourage all to support the school in the context of our faith. If we are honest and serve with integrity, we will overcome our adversaries. We can achieve this without accepting actions
or behaviour that goes against our values or faith.
We wish you a wonderful holiday to enjoy quality time with your children where you reflect
on the joy of Christ's birth.
Yours faithfully
Dorothy Newlands
Bazali
Iphosta eyabe isekuqaleni konyaka yabe ithi:
UNGATHINI UMA NGABE UNYAKA
WEZI-2020 KUNGABA
WUNYAKA OGUQULA
KONKE?
Kuzwakala sengathi kukhona owabe eyibambile le mfihlakalo, akunjalo?
Nokho esikwaziyo thina wukuthi sigcwele umoya wokubonga ngendlela engachazeki. Sivala iminyango yethu kulo nyaka wezemfundo sibonga singaphezi. Sibonga impilo, amathuba esiphiwe wona, ukugcinwa nokuba sendaweni evikelekile kanye nokunye okuningi.
Izinguquko eziqondene nemicimbi yethu yokuvala
Olunye ushintsho olube khona ekupheleni kwalo nyaka wukuthi sibe nemicimbi emine yokuvala kunokuba sibe nowodwa ojwayelekile – i-Prize Giving.
NgoLwesithathu, 18 Novemba uGrade R wathweswa iziqu emcimbini wabo omncanyana owawethanyelwe abazali. Ngisho isichotho esinzima asizange siyicime intokozo yodado owawungabadida nabafundi baseNyuvesi uma sebecothoza nezicoco zabo sebezithe chwa emakhanda abo.
Ngakusasa ekuseni kwabe kungabe-Foundation Phase nabe-Intermediate Phase abenza abazali babo ukuba bahambele phezulu ngenxa yokuzigqaja ngabantwana babo. Yebo, isikhathi siyandiza. Akukholakali uma sibona abantwana bethu bekhula sibhekile. Kuba sengathi bekuyizolo lokhu uThemba eqala esikoleni ngokuphazima kweso usephothulile.
Usuku lwangoLwesihlanu olwabe lubafazi bedube inyama lwajika lwaqhakaza ngenxa yomculo wabe-Senior Phase ababecula iculo elithi: Yima isibindi ungapheli ithemba ngomcimbi wabo wokuvala. Ngisho i-brass Band yadlala izimfijoli zabo ngenjabulo. Sibonga bonke abazali abaphumelela ukufika kulo mcimbi. Kuchaza lukhulu enganeni ukubona ubaba noma umama bephakathi kwezethameli.
Njengoba kuhlanganiswa lo mbiko amalungiselelo e-FET Phase omcimbi wokunikeza imiklomelo ezoba ngoMgqibelo 28 Novemba avutha phansi. Nakuba uzoba mncane kunokwejwayelekile kodwa ukubaluleka kwawo ngeke kulahleke njengoba siyobe sivalelisa uMatikuletsheni.
Ezinye izinguquko
Emvilophini yomntwana wakho ngamunye kukhona imibhalo embalwa ebalulekile.
Incwajana YeNqubo
Kuleli bhukwana uzothola lezi zinqubo ezilandelayo:
INqubo Yokusebenzisa ngeNdlela Eyamukelekile
Izidakamizwa Nophuzo
Ukuxhumana ngeziNkundla zokuXhumana
Imvume Yokusebenzisa Izithombe/imfanekiso/amaVidiyo/amazwi aqoshiwe
Ukuvuma ukuKhokha Imali Yesikole
UkuziBophezela Ekuyigcineni iNqubomgomo
Sicela ukuba nizifundisise lezi ziNqubo, nisibuyisele ingxenye esayinwayo, niyibuyise senisayine ukuthi niyavuma emakhasini okubonisa ukuvuma ukuthi nizokugcina lokho.
Incwajana eyejwayelekile
Kukhona nencwajana ephethe lonke ulwazi oludingayo mayelana nemali yesikole ka-2021, izidingo zomfaniswano namazinga ezidingo zokuphasa.
Incwajana ye-Stationery
Incwajana yesithathu icacisa ngezidingo ze-stationery okumele abe naso um/abantwana bakho ngowezi-2021. Qaphela lokhu esinye isi-stationery sitholakala esikoleni, okunye kuyagqugquzelwa ukuthi kuthengwe kodwa akuphoqelekile okunye kumele kuthengwe wumzali. Izidingo azifani ngokwamakilasi.
Sicela ukuthi ungangabazi ukubuza ehhovisi uma kukhona imibuzo ngalezi zincwajana ezi-3
2021
Ingane yakho eseBangeni le-11 nele-12 izokutshela ukuthi sesiqalile ukufundisa uhlelo lokufundisa lonyaka wezi-2021. Le nguquko siyenzela ukuba singasileli ngenxa yezimo ezingaqondakali esibhekana nazo usuku nosuku ezidalwa wuKhuvethe. Kuyoba mnandi ukuya emaholidini sazi ukuthi sesinesibindi sokubhekana nezimo esingenasiqiniseko sazo unyaka ozayo ongasilethela sona. Uma kungenzeka ukuthi umntwana wakho angakwazi ukuqala ngonyaka ozayo sicela ukuba njengomzali umsekele uma sidinga ukufunda ngamagagasi omoya. Bonke abafundi manje sebeqeqeshiwe kusuka kwaBebanga lika-R kuya kwele-12. Okwamanje siyethemba ukuthi siyowuqala unyaka wezi-2021 njengoba sawuqala owezi-2020!
Uma kuwukuthi ubungakayiboni imininingwane ngezinsuku zekhalenda lika-2021, nansi:
Term 1: 20 January 2021 – 31 March 2021
Term 2: 20 April 2021 – 23 June 2021
Term 3: 14 July 2021 – 17 September 2021
Term 4: 29 September 2021 – 4 December 2021
Ulwazi ngokuqondene neMpilo yomtwana wakho
Uzobuye uthole amafomu ngempilo yom/yabantwana bakho nesimo sezempilo njengoba silungisa kabusha wonke amarekhodi adingekayo. Kunezikhala elwazini esinalo ngakho singakuthokozela ukubambisana nani. Sifisa ukuthuthukisa ukuphila kwabantwana ngokwenza ngcono amasevisi esibanika wona abantwana esikoleni lapho esinamandla khona okukwenza lokho njengoba kubalulekile ohlelweni lwezempilo oludidiyelwe ukukufeza lokho njengokusho kwaboMnyango wezeMpilo.
Okokugcina
Encwadini yakhe edayisa kakhulu ethi, Imithetho eyi-12 yeMpilo: Isithako esingaba yisixazululo sesiphithiphithi, u-Jordan B. Peterson usho lokhu okulandelayo mayelana nokuthembeka: Uma uzidayisa wena, uma usho izinto ezingewona amaqiniso, uma uphila impilo engamanga, uzikhandela wena ubuthaka esimilweni sakho. Uma unesimilo esibuthaka, uma kufika izingqinamba ziyokukhukhula ngokungangabazeki. Uyocasha, kodwa akuyikuba khona indawo esasele yokucasha. Uyobe-ke sewuzithola usuphelelwe yindawo yokucasha. Uyobe-ke sewuzithola sewenza amahlazo. Yinkolelo egulayo kuphela, efile ephikelela ekutheni ungalungisa isimo sempilo yakho ngokuphila impilo engamanga uzikhohlisa. Le nkolelo ichitha iqiniso ngokuthi ithi alanele, nomuntu owethembekile ithi uphambene. Kuyinkolelo edala futhi esekela ukugula nenkohlakalo yezwe.
Ngiyanikhuthaza nonke ukuba nisekele isikole ngaphansi kwezimiso zokukholwa.
Uma singabaqinisile futhi sikhonza ngesiminya nobuqotho, siyozinqoba izitha zethu. Singakwenza lokhu ngaphandle kokuvuma izenzo eziphambana nokungamagugu nokholo lwethu.
Sinifisela amaholide ayisimanga ukuba nibe nesikhathi esiyingqayizivele nabantwana benu lapho nizindla ngentokozo yokuzalelwa uKhrestu.
Yimina ozithobayo
Dorothy Newlands
UThishanhloko